29.09. - 29.10.2022 HELVIJS SAVICKIS & JULIA OBLEITNER "Institute of Weather Modification"
29.09. - 29.10.2022
Galerija "Māksla XO"
Elizabetes iela 14, Rīga, LV 1010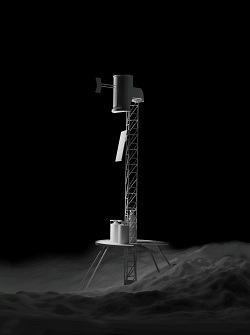 HELVIJS SAVICKIS un JULIA OBLEITNER
Institute of Weather Modification

This exhibition explores the Los Angeles water supply system, one of the most productive and controversial in the world. It examines weather modification as part of California's water supply network and architectural infrastructures, including the Los Angeles aqueduct, water reservoirs, the dried basin of Owens lake, and cloud seeding stations.
As the Metropolis grew, the infrastructure of the water was not enough and new technologies such as cloud seeding were used to provide more water.  Developed in the USA in 1946, cloud seeding is now used globally to silently influence weather and environment.
Julia Obleitner and Helvijs Savickis' collaboration started with a combined interest in weather systems, climate, and weather modification in Los Angeles and California - where water is limited due to the lack of reliable rain during the dry season. Savickis and Obleitner's video work documents their route following the infrastructural path of the city's water supply. They take a closer look at the weather modification program as part of California's water supply system and infrastructures for the city, including: the Los Angeles aqueduct to reservoirs, hot springs, lakes and cloud seeding stations.
"Cloud seeding" is a type of weather modification performed in order to control precipitation and to increase the efficiency of targeted rainfall towards multiple water reservoirs.  Devices that are enhancing rainfall vary from size, shape and appearance. These objects are hidden from public consciousness, installed as close to clouds as possible. The Owens Valley and the cloud seeding stations in the Sierra Nevada mountains represent traces of collapsing water systems in the world. By combining documenting material and digital created material – their work oscillates between history, new narratives, speculative fiction, humans and environment. It is a journey to the city's future weather, which tells a story of ecology, resources, the weather and the water.
"Institute of Weather Modificationis operating between rain and drought, between reality and speculative fiction, human and environment.
It is observing, exploring and disturbing. And it is creating various scenarios and experiments.
The scenarios include studying the possibilities of weather manipulation and the resulting architectural consequences for our environments.
All over the world there are already weather stations, cloud seeding sites and test sites that deal with atmospheric investigations and weather manipulations.
Scientists are working on geoengineering techniques and large-scale interventions in the Earth's climate system in order to counteract climate change.
But what would be the consequences of artificially manipulating the weather?
From a world with technically constructed ecology, atmospheric conditions and already programmed scenarios? And who will decide tomorrow's weather?
Institute of Weather Modificationoperates in between the fictive and the documentary.
The work addresses complex contemporary topics and aims to reflect on social, political and ecological perspectives by means of an open visual narrative.
It is a multimedia spatial installation and video work, where the exhibition space becomes a laboratory, where one can take part in a journey that will explain to the visitors the options of our world's future weather"- Helvijs Savickis and Julia Obleitner, 2021.
"Institute of Weather Modification"is a collaborative work by Helvijs Savickis and Julia Obleitner. The architects and artists are operating between new media, performative works and architecture. In their work they are interested in large scale territories, geopolitical footprints of mankind, contemporary political, ecological and urban issues.