17.08.-24.09.2022 BODO KORSIG "Lost in Paradise"
17.08. - 24.09.2022
Galerija "Māksla XO"
Elizabetes iela 14, Rīga, LV 1010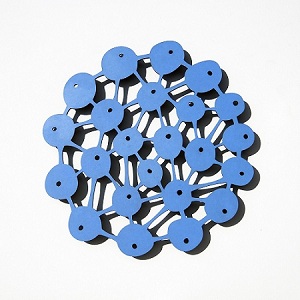 Lost in Paradise

Bodo Korsig'smain theme for over twenty years, has been the examination of the ways and conditions of thinking and feeling. His abstract world is inhabited by oddly familiar shapes and feelings. A bleak yet willful sprout of something, a defiant biotic cell, a swirling cross-section of a scanned brain... They are living abstractions, playful and foreboding.
Bodo Korsig's latest works further develops his interest in the mysterious intersection of mental and material existence, where the biological aspect of our thoughts and emotions is revealed, perhaps someday diagnosed. As studies of the brain reveal new understanding of perception, Bodo Korsig considers the formal scientific nature of love, memory, anguish and beauty, and how consciousness is so solitary yet so universal [...]
Bodo Korsig is fascinated with love, which he calls a "superpower" that can make us lose all objectivity and commit crazy and often self-destructive acts. Love, along with mortality, memory, poetry, brain science, and the vexing question of what constitutes consciousness. Bodo Korsig's subject is all of the above made superbly manifest in idiosyncratic shapes of his own invention that are reminiscent of images from brain scans. He says, "Love makes our brain weak, like an infection. It is the most powerful destructive force."
From a 21st Century perspective, Bodo Korsig realizes that all this mayhem is the result of neurons releasing chemicals in the brain and questions whether we can identify the place where love resides in the grey matter in our skulls. Are we our brains? Do the chemicals released in them completely control our emotions and actions? These are questions that Bodo Korsig began to explore in depth around the year 2000, when he first visited the Center for Neurobiology and Behavior at Columbia University and began meeting with its founder Eric Kandel, a Nobel Laureate, who is known for his revolutionary research on the physiological basis of memory. Bodo Korsig wryly asks the question of whether we can eliminate bad memories in his woodcut, "Where Can I Buy a New Brain?", now hanging in Kandel's office at Columbia University.
Investigating the science of emotion has proved to Bodo Korsig that the two subjects – body and mind - are not mutually exclusive. Art and science aren't either, although he does differentiate between practitioners in each field when he says, "Scientists want to prove and artists want to ask." Bodo Korsig draws no absolute conclusions from his research. He resists defining what his work is about, preferring to leave the interpretation open to the viewer. He says, "I want to offer a message, but never an immutable statement. I want the experience to be more like life itself, full of signs and symbols that we encounter and interpret." 
Bodo Korsig (1962) was born in Zwickau, Germany. He works and resides in Trier (Germany) and New York (USA). In 1990 he graduated from The School of Advertising and Design (Fachschule für Werbung und Gestaltung) in East Berlin, where he studied sculpture and stone restoration.
Within his work Bodo Korsig has always explored the relationship between art and social connections. His creating amplua includs sculpture, photography, video installation and stage design.  On multiple occasions he has collaborated with musicians, dancers, writers and poets, such as John Ashberry (USA), Peter Wawerzinek (DE), Paul Auster (USA) and Akira Tatehara (JPN), he has produced over 40 limited artist's books.
In addition to sculptures and installations, he carried out numerous projects in public space, including the work "State of Mind" (2012) at Erbeskopf (Rhineland-Palatinate) or the installation "Connecting the dots - Challenge the status quo" (2018) at Hsinchu Science Park in Taiwan.
Bodo Korsig's artworks are in more than 50 public collections and museums all over the world, including Art Collection Telekom (Leipzig, Germany), Deutsche Bank Collection (Frankfurt, Germany), Art Museum Villa Zanders (Bergisch Gladbach, Germany), Staatliche Kunstsammlungen Dresden, Kupferstich-kabinett collection (Dresden, Germany), Academy of Fine Arts Vienna (Vienna, Austria), Czech Museum of Fine Arts (Prague, Czech Republic), Luxembourg National Museum of History and Art (Luxembourg), Museum of Modern Art (MoMA) (New York, USA), Brooklyn Museum of Art (New York, USA), National Gallery of Art (Washington D.C., USA), Yale University Art Gallery, Special Collections (New Haven, CT, USA), Smart Museum of Art (Chicago, USA), Kaohsiung Museum of Fine Arts (Kaohsiung, Taiwan), Museum of New Zealand Te Papa Tongarewa (Wellington, New Zealand).