01.07. - 31.07.2021 BODO KORSIG "Escape"
01.07. - 31.07.2021
Galerija "Māksla XO"
Elizabetes iela 14, Rīga, LV 1010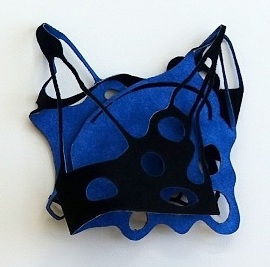 BODO KORSIG
Escape
"For over twenty years, main theme of my work has been the examination of the ways and conditions of thinking and feeling. I am interested in the limited states of brain, the neurological processes as a reaction to extreme existential conditions, such as fear or violence. One of the main features of my work is the deconstruction of motifs, themes and things into symbols, into an abstract world of forms." - Bodo Korsig.
From July 1 to July 31, 2021, Maksla XO Gallery offers a solo exhibition by German artist Bodo Korsig - "Escape" - which will include objects from metal and felt, as well as drawings. In addition to the solo show, Bogo Korsig intends to give a master class to the students of the Sculpture and Textile Art departments of the Art Academy of Latvia.
The title of Bodo Korsig's exhibition and some of the work displayed is a kind of reaction to the current exceptional situation. The formal language of the works is based on microbiological motifs or abstracted, individual brain structures. For example on cells, cell cords, microorganisms, but also on pathogens such as viruses. According to the artist, these creations make it possible to deal with fears and uncertainties.
"Each individual revisits the past at some point in his life and interprets the memories on that path. Memories of my experiences ranging from the happy to the painful are presented in the installations of my works."
Bodo Korsig (1962) was born in Zwickau, Germany. In 1990 he graduated from The School of Advertising and Design (Fachschule für Werbung und Gestaltung) in East Berlin, where he studied sculpture and stone restoration. His works are in more than 50 public collections and museums all over the world, including Art Collection Telekom (Leipzig, Germany), Deutsche Bank Collection (Frankfurt, Germany), Art Museum Villa Zanders (Bergisch Gladbach, Germany), Staatliche Kunstsammlungen Dresden, Kupferstich-kabinett collection (Dresden, Germany), Academy of Fine Arts Vienna (Vienna, Austria), Czech Museum of Fine Arts (Prague, Czech Republic), Luxembourg National Museum of History and Art (Luxembourg), Museum of Modern Art (MoMA) (New York, USA), Brooklyn Museum of Art (New York, USA), National Gallery of Art (Washington D.C., USA), Yale University Art Gallery, Special Collections (New Haven, CT, USA), Smart Museum of Art (Chicago, USA), Kaohsiung Museum of Fine Arts (Kaohsiung, Taiwan), Museum of New Zealand Te Papa Tongarewa (Wellington, New Zealand).
More: https://www.youtube.com/watch?v=xMgm-8hZ-Hg
https://rus.lsm.lv/statja/kultura/kultura/virus-tozhe-mozhet-bit-geroem-iskusstva--pobeg-germanskogo-skulptora-kultura1kb.a411496/
https://arterritory.com/lv/vizuala_maksla/on_site/25641-foto_ieskats_vacu_telnieka_bodo_korsig_izstade_izbegsana_escape