02.02. - 18.02.2018 IVARS HEINRIHSONS "Arte de Letonia. Saludos de Ivars Heinrihsons al estilo quijotesco para Letonia en su Centenario"
02.02. - 18.02.2018
Museo El Posito
Plaza Posito 5, 13610 Campo de Criptana, Ciudad Real, Espana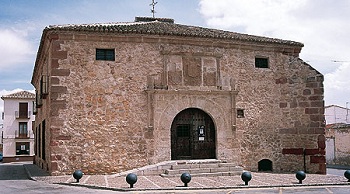 Arte de Letonia.
Saludos de Ivars Heinrihsons al estilo quijotesco para Letonia en su Centenario

From 2nd to 18th February, 2018, in Spanish city Campo de Criptana, at the Museo El Positothe travelling exhibition "Arte de Letonia. Saludos de Ivars Heinrihsons al estilo quijotesco para Letonia en su Centenario" by Latvian painter Ivars Heinrihsons will be launched. Throughout this year, it will travel around the cities of Castilla de la Mancha. This project is part of Latvia's Centenary celebration programme and has been organized thanks to the cooperation between the Embassy of the Republic of Latvia in the Kingdom of Spain and "Maksla XO" gallery (curator Ilze Zeivate).
Ivars Heinrihsons' exhbition at the museum El Posito in Campo de Criptana is formed of two parts – series of 10 drawings about Don Quixote – "Battle with Windmills" and series of 11 paintings "Signs of Spain" that reflect on the influence of Spanish culture on Latvian creative personalities, including Ivars Heinrihsons himself. 
 The series of drawings "Battle with Windmills", through the prism of the artist reveals the expressed philosophical idea in the novel about the personality and its place in the world, where fast paced time requires one to live and evolved with it, and not get stucked in the shadows of the past, pointlessly trying to revive long gone, unnecessary traditions. As the author of "Don Quixote" Miguel de Cervantes once aptly said: "Look inside yourself, try to understand yourself. This is the hardest of understandings that one can imagine. By understanding yourself, you won't bloat like a frog that wanted to be a bull."
Extremadura I. Extremadura II. 2017, oil on canvas, 2x(130x97cm)
The series of paintings "Signs of Spain" reflect on Ivars Heinrihsons' travel impressions around the Spain over the years. "There is Extremadura – the ride over mountains through a grey, dewy masses of air. Monotonous, always hazy nature as in a kingdom of fog. Along a narrow road – from one hill to another, going up and down. Tree trunks in clouds, cows like ghosts. Feeling of being like out of time.
There is a road to Guadalupe and Campo de Criptana with Don Quixote's windmills. A grey day, occasional sun through the clouds. Such wind – that you have to hold on to something, not to get blown away. Cervantes has been here..." that is how Ivars Heinrihsons sees Spain and its nature, revealing it in his paintings.

Ivars Heinrihsons is one of the most vivid personalities in Latvian fine arts scene of this time – a painter, a brilliant representative of neo-expressionism in Latvian contemporary painting, and for many years a Professor of Painting at the Art Academy of Latvia. Ivars Heinrihsons has recurrently studied Spanish painting during his travels around Spain, both examining artists' works at the museums, and visiting their creative environments. For him, visiting Spain means to get closer to Goya, El Greco, Antonio Saura not only virtually, but in direct contact – through their art, the local environment, and mentality. Feeling them as his own, though geographically finding themselves on the opposite sides of Europe.