09.03. - 04.04.2017. IVETA LAURE "Intra"
09.03. – 04.04.2017
Galerija "Māksla XO"
Elizabetes iela 14, Rīga, LV 1010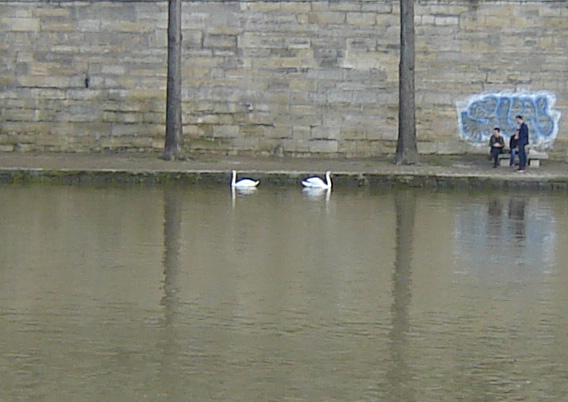 IVETA LAURE "INTRA"

"The main point of reference for the project INTRA is the space itself – Cupola hall. It is the basis of all the works – dark walls and in the ceiling illuminated cupola – a light circle. Symbolically the circle indicates completeness. For human perception it is a very natural form, which creates a sense of security. It is both abstract and concrete at the same time.
The circle appears in the compositions of multiple objects as a ready-made, as well as a basis of the composition. However, it is not a dominant of the exhibition; a very important part is the connection between materials and images – "Light, romantic swans of the creator's imagination against heavy, industrial everyday things of a demiurge." Long life with an inevitable everyday routine.
A significant role in the project's concept is a presence of my personal handwork," Iveta Laure, 2017.
* intra – inside

Iveta Laure (1962) creates collages, assemblages, environmental objects, ready-made objects and works in fields of interior and graphic design. In her works, she uses recycled industrial materials – scraps from sheets of printing paper, cardboard, wood and metal plates. She is not limited in the means of material; therefore stages of her work are continuously changing locally, as well as internationally.
Iveta Laure has graduated from the Department of Environmental Art and the Workshop of Visual Plastic Arts (1997) of the Art Academy of Latvia. She is a teacher at the Riga School of Art. She has been participating in exhibitions since 1989 and is an active participant at symposiums and exhibitions. She has held several solo exhibitions in Latvia and abroad and has gained recognition by participating in workshops in Sweden, Iceland and Finland.
Works in public collections - Mark Rothko International Art centre (Daugavpils/Latvia), Museum of Decorative Arts and Design (Riga/Latvia), Artothek of the Federal Chancellery (Vienna/Austria)