05.03. - 31.03.2015 Neonilla Medvedeva "The Characters of Riga"
05.03. - 31.03.2015
Galerija "Māksla XO"
Elizabetes iela 14, Rīga, LV 1010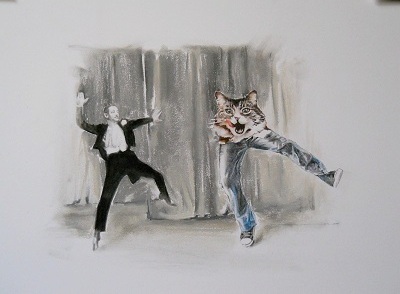 "The Characters of Riga"
"The main theme of my works is the internal state of peace, search of harmony and balance, which is shown in the characters - mostly portraits. This character has been carefully studied in nature, precisely and delicately formed in to works. Emphasizing and exaggerating those things and details that show the character of the personality.
Sometimes the character is not understood by the environment, creating an illogical connection. Sometimes it asks the question "Why?". The character and the environment are formed as a three-dimensional space, showing both the formal expression of the beauty and flow of thought and time, who referred to the previous centuries of cultural heritage" – Neonilla Medvedeva.
Neonilla Medvedeva is a magnetic individuality, a young, talented artist and belongs to a new generation of Latvian artists. She works with various art techniques, but most of all she is keen to classic technique such as oil painting on canvas, academic drawing with Indian ink, graphics (etching and colour linocut). The subject of her works is a portrait - human figure in a relationship with the surrounding world, space and nature. Continuous communication of a human with the past, with the beyond, emphasis on the eternal values and particularly peaceful mood are clearly felt in her works. Her works are often repeated images of the past, images, having cultural significance, such as allegory, Byzantine images of angels, images of the past century - Neonilla interprets all this from the perspective of a young contemporary person.
Neonilla Medvedeva studied in Art Academy of Latvia, where in 2011 she received the Master degree in painting. In 2010-2011 she attended the Erasmus program in Aristotle University of Thessaloniki, Greece. Since 2008 Neonilla Medvedeva participated in more than 15 group exhibitions and international projects in Latvia and abroad - Sweden, Germany, Italy, France, Greece, Lithuania and Estonia.
Neonilla Medvedeva is the author of the crypt altar-piece in Saldus Sts. Peter and Paul Roman Catholically church (2008).
.