03.04. - 29.04.2014. Inga Meldere "Magic Mountain"
03.04. - 29.04.2014
Galerija "Māksla XO"
Elizabetes iela 14, Rīga, LV 1010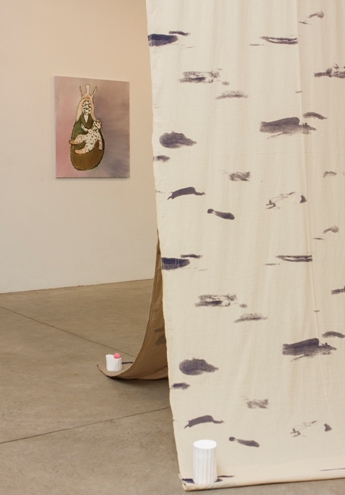 "Summer memories of my childhood in Latvian countryside. The fairy tail-like countryside was placed in the middle of the deep forest. Behind the forest there was a swamp. There is the end (the horizon) of the world behind the swamp, I thought for many years of my very young age. The borders were so clear for little me. What a disappointment it was, when years later I found out I have been wrong! There was a village behind the swamp, a normal boring one.
And also one more, there is this orange fruit, Physalis alkekengi. I watched it patiently for many seasons of my childhood. It was not allowed to touch it. I knew, there is something about it, it must be filled with sweet juicy plum inside, I thought. But no. The disappointment came at the moment I decided to find it out. I grabbed the orange fruit. It was so empty, just a dry old plant.
I am sure, every one of us has some certainty, own truth (not the illusion), and when it collapses for some reasons in certain age, case turns in to a strong emotional experience, sometimes in to a traumatic one. Some of these traumas can become an unconscious drive for our creative energy, reflecting the case or helping to avoid it.
Failing. Disappointment. From the definition: it is the feeling of dissatisfaction that follows the failure of expectations or hopes to manifest" – Inga Meldere.
Meldere has a Bachelor's degree in pedagogy (2001) with a specialization in visual art and art history from Department of Pedagogy and Psychology at the University of Latvia. She also has Bachelor's (2005) and Master's (2007) degrees from Department of Restoration at the Art Academy of Latvia. Her work has gained the attention of curators outside of Latvia, resulting in her participation in a number of international group exhibitions.
Inga Meldere' works are in public collection of Kiasma Museum of Contemporary Art in Helsinki, Finland.