28.02. - 26.03.2013. Ilze Orinska "SMALL SIZES"
28.02.2013. - 26.03.2013.
Galerija "Māksla XO"
Elizabetes iela 14, Rīga, LV 1010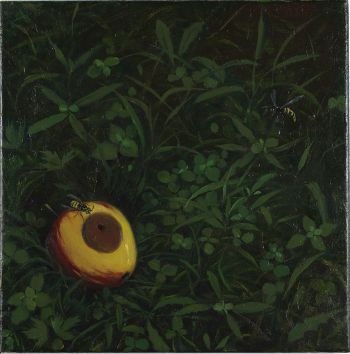 Maksla XO Gallery from 28.02. – 26.03.2013
For more than ten years, Latvian painter Ilze Orinska has lived and worked in Berlin, Germany.
In her paintings, the artist consistently portrays the nature of Latvia - her observations in Latgale, where she spends summers with her family.
The title of the solo exhibition "Small Sizes" by the artist is related to the small size of the paintings and the themes depicted in them as the meeting of bugs, a feather in the grass, building a bird-nest, or the shell of an egg left behind... The deeper meaning of paintings by Ilze Orinska is a story of fragileness of every single ceature, the uniqueness and unmeasurable value.
Ilze Orinska graduated from the Art Academy of Latvia in 1992 and that of Bremen in 1999.
Her solo exhibitions took place in Galerie M+R Fricke in Berlin (2012), Gerhard Marx Museum Hall in Bremen (2011) and in the Contemporary Art Centre Ziecke. 
Ilze Orinska solo exhibition "Small Sizes" will open at the Maksla XO gallery in Riga from February 28 until March 26, 2013.