08.03. - 03.04.2012. Kristaps Gelzis "Substance to rethink"
08.03.2012. - 03.04.2012.
Galerija "Māksla XO"
Elizabetes iela 14, Rīga, LV 1010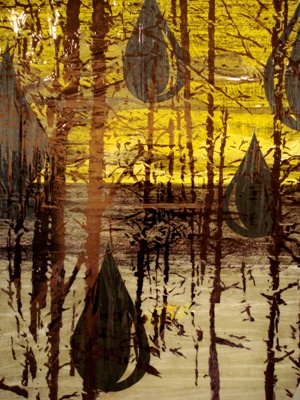 Kristaps Gelzis "Substance to rethink"
Maksla XO  Gallery from 08.03. – 03.04.2012
Kristaps Gelzis is artist who is able to present himself in any kind of mediums which is offered in 20th/21st Century. Actually, it is one of Kristaps Gelzis personal touches and his artistic handwritten originality to create each of his solo exhibitions in a different mediums.
For the last four years Kristaps Gelzis is attracted to the large scale watercolour paintings and black and white drawings made by watercolour pencils combined with photograhpy, but  at the 54 La Biennale de Venezia where Kristaps Gelzis reprezented Latvia he exposed fluorescent paintings - using special fluorescent water-based acrylic paint. In 2011 artist finished 36 m2 monumental black drawing in strich technique, specially for prospective Lipkes` Memorial in Riga, Ķīpsala (arch. Zaiga Gaile), which is planned to be opened in 2012.
Kristaps Gelzis works are created from observing present, from inconspicuous weekday events, which become his art's way out (point of exit) and result in the same time. Using all available contemporary technologies and media and traditional watercolor painting and drawing, Kristaps Gelzis virtuously and ironically combines individual in a one form with his time and reality, history and tradition, and challenge the spectator to a dialog. And work of art turns into a social space, where we are looking for relationship with what is existing around us.
The new solo exhibition "Substance to Rethink" by Kristaps Gelzis will show again the difference of artist handwriting. In this exhibition Kristaps Gelzis has found a new access to material and offeres an other point of view for an observers.
                                                                                                Mg.Art. Ilze Zeivate