17.11. - 13.12.2011. Jana Brike "Milk and Blood"
17.11.2011. - 13.12.2011.
Galerija "Māksla XO"
Elizabetes iela 14, Rīga, LV 1010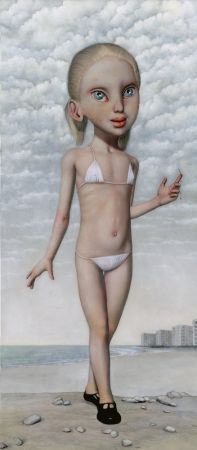 "Māksla XO" gallery from 17.11. - 13.12.2011 
About the exhibition Jana Briķe tells: "Milk and blood are words which we use to decribe a joung, healthy girl or a child, but separatly for each of thes word can be found a complicate, semiotic meaning.
All the works of exhibition seems to be portraits of children and young people, moreover the composition and expression style is very classical with a reference to traditional painting. But at the same time none of them is real "portrait" as they do not represent a concrate person or a situation. Maybe these are just a potential portraits of someones emotional experience or feeling. They are not even a children, what I have painted. Those are metaphors for an innocence, potencial of development, vulnerability, intuition.
As an instrument for my painting I combine a digital photography and synthetic properties of 3D computer programs, fine and precise hand work in different materials - graphite, colored pencils, pens, markers, blow colors, gouache, temperas and oil colors. This is my set of methods to capture the final contrast collision point in a material, in an image, such as artificial - natural, alive - dead, beautiful - unpleasant, attractive - deterrent, ect."