08.09. - 11.09.2011. PREVIEW BERLIN 2011
08.09.2011. - 12.09.2011.
PREVIEW BERLIN Projects
Prinzenstraße 85 C 10969 Berlin | Germany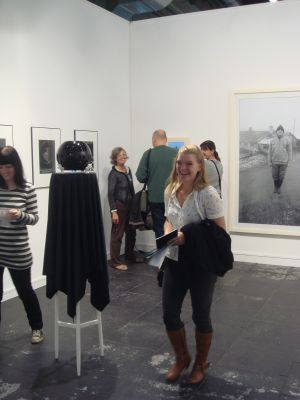 PREVIEW BERLIN 2011 - The Emerging Art Fair
Since 1999 the Māksla XO gallery has developed its focus on contemporary and emerging art - painting, sculpture and works on paper - monumental drawings, photography and graphic art - mezzotint, aquatint, lithography, ranging from traditional representation to contemporary forms of urban and social art. It represents both established and emerging artists of several generations from Latvia.
At PREVIEW BERLIN 2011, the gallery will show the established collection of work on paper - made by three different Latvian artists (Guntars Sietiņš, Kaspars Podnieks, Tatjana Krivenkova) and in different media (drawing, photography, mezzotint and colour aquatint). The two dimensional exposition will be complement with three dimensional objects by Kristaps Ģelzis.
Guntars Sietiņš is the most outstanding master of Latvian contemporary graphic art, who chooses to work in the complex and time-consuming "black" technique of mezzotint, exhibits internationally, and is the recipient of a number of awards in international competitions.
In a series of prints from the final ten years the artist makes use of highly polished metal balls offering not only the element of perfect form that comes with a circle, but also the potential for including distorted reflections of reality. The artist is dealing with the relationship between the space and the volume, the darkness and the light. The objects depicted in the conditional landscapes levitate some where between the sky and the earth.
Obviously, there can be various methods of " levitation " - it we can see on exposition by the young and promising (nominated for the Purvītis Award 2011, too ) artist Kaspars Podnieks. The artist's areas of activity are video, installation, and staged photography.
Podnieks photographs himself. Himself, alone, non - digitally lifted above his native village and its landscapes. It is not a manipulation, there's no particular way of processing the image. Everything is real, but this reality is staged through tension which shoud be understood by the thinking wiewer.
Kaspars Podnieks's conveys about his metaphisical ties with the familiar envinonment of his native Drusti village. Here one can observe a rather paradoxical combination : a blend of urban intellectualism with Latvian country mentality, which hirts at a kind of peasant, slyness, practicality, faith and even naivete and sincerity of the artist that he himself admits. And besides Podnieks's image is illusory, poetic and it isn't documentary realism, artist tills everything with meaningful angles.
Tatjana Krivenkova is a well known painter with a cultivated and extremely fine sense of colouring. By turning to graphics, especially colour aquatints, she has set herself a challenge. Moreover, in the case Krivenkova, the production process is also included in her conception of the artwork.
Tatjana Krivenkova does not print the large runs characteristic of graphic art. Every one of her colour aquatints is made from two or three plates and each is like a unique work. The basic module of all the compositions is a square divided into nine smaller squares. With every print the artist changes the composition and colour arrangement so unnoticeably and cleverly that we get the justified feeling that we are in the presence of art. The tonally nuanced and refined two colour interrelationships are arranged in countless variations and unexpected patterns. However, in no way is it possible to transform these two colour relationships into precise RGB or CMYK colour code percentages. This is why the true value of Krivenkova's aquatints can only be appreciated by examining the original works.
Kristaps Ģelzis is artist who is able to present himself in any kind of mediums which is offered in 20th/21st Century. Actually, it is one of Kristaps Ģelzis personal touches and his artistic handwritten originality to create each of his solo exhibitions in a different mediums. At Preview Berlin 2010, the observer could acquaint oneself with Kristaps Ģelzis drawings. In this year "Māksla XO" gallery will present Kristaps Gelzis multimedial objects.