28.07. - 27.08.2011. Helēna Heinrihsone "WATERCOLOUR"
28.07.2011. - 27.08.2011.
Galerija "Māksla XO"
Elizabetes iela 14, Rīga, LV 1010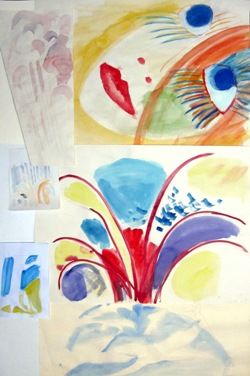 Helena Heinrihsone "Watercolour"
Māksla XO Gallery from 28.07. - 287.08.2011
Helena Heinrihsone is one of the most versatile Latvian artists. She is oil and watercolour painting, making lithographs, painting porcelain and working in animation. Her art is characterized by bright, basic colours - red, purple, yellow, blue, green, also black and white.
In her current watercolour exhibition Helena Heinrihsone merges instant impressions and traditional perceptions sorted out during the long years of drawing inspiration at the Slītere National Park.
These are tiny intimate worlds captured in different seasons by Heinrihsone who in her own way features the contrasts of nature, light and colour: frozen roses in the snowstorm and a precise anathomy of a snowflake, a snowfield in the winter sun and naked figures throwing snowballs at each other.
Birds, beasts, human figures and faces act like decrypters of the seasons in Helena Heinrihsone's works.
The theme of metamorphosis in nature unites in itself the real and imaginary world - realistic landscape studies combined with figurative language and parables.
           Mg. Art. Ilze Žeivate