28.07. - 27.08.2011. Inga Meldere "OFFSET"
28.07.2011. - 27.08.2011.
Galerija "Māksla XO"
Elizabetes iela 14, Rīga, LV 1010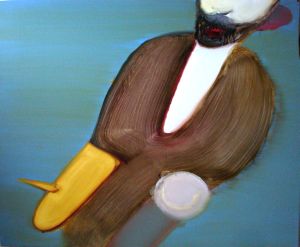 Māksla XO Gallery from 28.07. - 27.08.2011
Artist Inga Meldere in her solo exhibition " Offset " still keeps to deduct position of a descreet obsorver. This time in a centre of attention is not a separate moments from the life, events, persons, but the way how they conect, how they supplement, explain or change the perception of each other.
"Simply thinking about an ancient and in some way "outworn" setting as a girl compared to lime and a boy as an oak - in reality this setting does not work anymore (and there is a very small part of society which would be interested in it), because with an oak often is understood limes, birchs, rowans, poplars and e.c.t." says artist.
As a result Inga Meldere, trowing aside any kind of conceptions and using only subjective grasp, she trys to inquire what kinf of people are today, here all around us, what kind of sensuality and emotional aggregate hides behind the man's rough mask and what kind of spirit is in a woman, for who the history has put a stamp of a "weak" gender, but very often order her to be strong as an oak. The author as rehabilitating those many and different features, which for a long time was shut off or ascribed to the one side only, in a strict division of masculinity and femininity.
Possibly sometimes painting may prove more convenient cognitive tool than language. Ingas Meldere's sincere attitude towards the objects she is painting leads to a very interesting and original result. They both are determined by the veil, but this artist is characterized by the type of painting techniques and aesthetic applications, the intuition will be more relevant for the perception tool, than a work of art formal analysis, but at the same time the message is again uncovered in a titles of works, where the 'shift' language in a 'normal' use is not at all incomprehensible, but rather creates a new precise terms of new sensitivity images. And even if the written word or spoken argument is not the main artist's interest, with her art she is able to give a frame to this thinking territory, which works to protect ourselves marked boundaries and to tell exactly as much as you want, and if somebody would try to step over the line, to neutralize it with an exact dose of irony, with an provocative joke pointing out that you viewer now about to become too officious.
            Mg.Art.  Iliana Veinberga