10.03. - 05.04.2011. Michel Castaignet "In Memoriam Europe"
10.03.2011. - 05.04.2011.
Galerija "Māksla XO"
Elizabetes iela 14, Rīga, LV 1010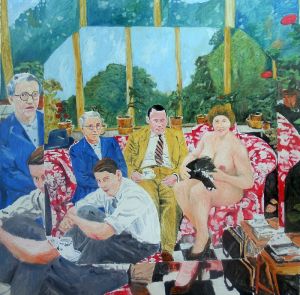 Michel Castaignet "In Memoriam Europe"
Māksla XO Gallery from 10.03. - 05.04.2011
Very influenced by the extinction of paintings and the theories of the time embodied by Clement Greenberg or the French minimalists of the 60's (BMTP, Claude Rutault, etc.), Michel Castaignet tries to translate these researches into a figurative universe, transforming formal critiques into social critiques. 
His work is made of ruptures and conflicting researches where coherence underlies in a playful formalism. Using amateurs' photos as basic shapes, he creates lyrical paintings that hide their rational behind an apparent accessibility.
His work process is noticeable by an obsession with resurgence. He gives his work a philosophical sense of iteration by recurrently using the same images or situations for his paintings.
Family scenes reproduced several times on the same canvas create a distance with the subject, like a white square on a white canvas. Sometimes people seem to float on an abstract background. They are individuals taken from a photo and rearranged on a blown up part of the picture. They become foreigner to their own environment. In some other painting, people are affected by a radical transformation of their world.
Michel Castaignet lives and works between Paris and Champagne. He exhibits both with the pioneers that influence his work and young contemporaries.