09.03. - 01.04.2023 ERIK MATTIJSSEN "Puppets on a String"
09.03. - 01.04.2023
Galerija "Māksla XO"
Elizabetes iela 14, Rīga, LV 1010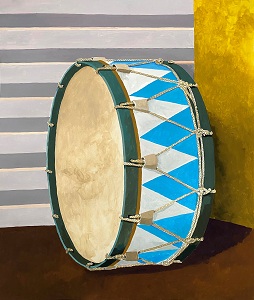 ERIK MATTIJSSEN
Puppets on a String

"One nice thing about being an artist is that you don't have to worry about what you do when you get old. I am sure I will never stop drawing and painting. All my work is made on paper, never on canvas and always in a mix of materials. Pencil, where I think pencil is most appropriate (for fine detail); pastel, where colours have to be soft and velvet -like; and gouache, for a more radiant, stronger palette. I consult other painters when I am lost. Kirchner is a big help, David Hockney and Henri Matisse of course, and Hans Ebeling Koning's inimitable colour choices continues to inspire," Erik Mattijssen.
In his paintings, Erik Mattijssen focuses on something other than the exact reproduction of the texture of objects, the creation of a skilful composition, or how beautifully the falling light can be depicted. Casual, everyday objects that are easily overlooked often play the leading role in his work. Stuff that is easy to forget, but at the same time, they are things with a history to which collective memory is attached. He loves the things people collect and cherish and observes how they are arranged on kitchen tables, living rooms, windowsills and market stalls. Sometimes the artist gets his inspiration from everyday scenes with things that don't belong there: What is a rhino hanging on strings doing over the mantelpiece, and why is there a big black horse in the living room?
Erik Mattijssen has always been interested in the world of toys and model making, which are like a copy of the grown-up world where we live. The first work of art with puppets was created in 2001, after the puppets of the Belgian political puppet theatre in Antwerp. Also, the first music record that the artist bought in his youth was "Puppet on a String" by Sandie Shaw!
It is not something surreal; it's rather a realism with a slight absurdist perspective, where colour and the way the artist constructs his paintings play a distinctive role. Erik Mattijssen places free, loose objects in the foreground of his paintings - like cut-out dolls or animal figures, plants or other objects that resemble theatre props on the stage. It is a confusing game with 2D and 3D representations where the artist himself feels at home.
The personal exhibition at the Maksla XO Gallery, called "Puppets on a String", assigns prominence to the theatre puppets. Abandoned interiors, toys that are no longer played with, a scale model, all the objects have been intuitively created and linked together. They tell a story that ultimately must figure out by the viewer themselves.

"Every day and personal at the same time, Mattijssen makes visible what people hold dear. His work bears witness to a special personal involvement with the people he meets - his work is, therefore, at the very centre of life. A central and recurring theme in the collection is "condition humaine" Erik Mattijssen is an artist who expresses this in a very personal way, bearing witness to a humanistic attitude that is recognisable to many" - Colin Huizing, curator of the NOG collection, Stedelijk Museum Schiedam.

Erik Mattijssen (1957) lives and works in Amsterdam, the Netherlands. He graduated from Gerrit Rietveld Academy (1984, Amsterdam, Netherlands). Since 1985, he has participated in more than 100 group exhibitions and held 42 solo exhibitions in the Netherlands, Germany, Belgium, France, Norway, Estonia, Portugal, Italy, Ireland, USA, Mexico, and now also in Latvia. Since 1988, he has been giving lectures at the Gerrit Rietveld Academy (Amsterdam, the Netherlands) and visiting art institutions worldwide with guest lectures and master classes. Erik Mattijssen's works are in more than 30 public and private art collections, including Stedelijk Museum Schiedam (Schiedam, Netherlands), Stedelijk Museum Amsterdam (Amsterdam, Netherlands) and Ballinglen Museum of Contemporary Art (Ballycastle, Ireland).