09.02. - 04.03.2023 ZANE ZEIVATE "As Long As You Want"
09.02. - 04.03.2023
Galerija "Māksla XO"
Elizabetes iela 14, Rīga, LV 1010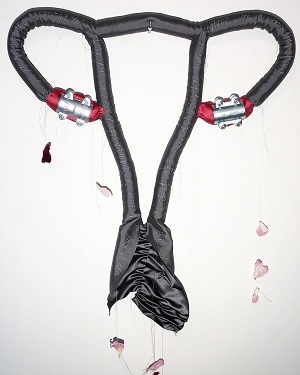 As Long As You Want

"When I write poetry, I let my walls crumble. Being in the process, I strengthen my trust in my feelings. Working with metal, fabric, and embroidered text, I search for a place in modern urban society where emotions and rationality participate in an endless power game. I explore the boundaries between the human-made environment and human feelings, which are seen as weaknesses in structures such as cities.
Combining needlework and craft skills with autobiographical methods is a way to create lasting evidence of socio-political problem situations. Through sculptures and text, I reveal my experience as a woman in the larger context of the moment, searching for and questioning the patterns of gendered power structures in democracy.
I am interested in the two-way relationship between the human-made environment and human perception to overturn the conditioning of gender stereotypes. I find and highlight new associations with existing urban structures - in this way, playing with human perception and changing how we objectify the built environment around us.
In my practice, I use spatial contexts and turn them into metaphors that speak about social values - women's emancipation, equality and body autonomy. I deliberately choose recognizable, functional metal parts from urban landscapes and try to change and deconstruct them, creating new forms to search for less hierarchical models of gender relations." Zane Žeivate, 2023
With the support of the Latvian State Culture Capital Foundation (SCCF), the three sculptures by Zane Žeivate from the series "Diary of Structures" were exhibited in 2022 at a solo exposition in Tbilisi, Georgia - at the International Art Fair TAF and the International Art Fair ART VILNIUS in Vilnius, Lithuania. The solo exhibition at Maksla XO Gallery will be the first large-scale solo exhibition of the artist, which will include several sculptures in mixed media and written text.
Zane Žeivate (1993) graduated from Sanberg Institute, Department of Social Space Studies of Gerrit Rietveld Academy (MA, 2021, Amsterdam, Netherlands) and Riga Technical University, Faculty of Architecture and Urban Planning (BA, 2017, Riga, Latvia). She has received an Incentive Award, the Latvian Architecture Award (2014). And she has worked as an architect-intern at Hosoya-Schaefer Architects (2018, Zurich, Switzerland) and as a junior architect at Zaiga Gaile Architecture Office (2019, Riga, Latvia).
Since 2021, Zane Zeivateas an artist has participated in several group exhibitions and projects in Lithuania, the Netherlands, Georgia and China:"Terrible Event" (2022, Amsterdam, Netherlands), "Love for Sale: Alles moet weg?" (2021, Amsterdam, Netherlands), "Turn of the Light When You Leave" (2021, Amsterdam, Netherlands), "Finally, Things are Happening" (2021, Amsterdam, Netherlands), "Women are Fashioning" (2021, Xiamen, China). In addition, she's been writing articles for "Latvijas Arhitektūra" magazine since 2017. In 2021, Zane Zeivate published her essay book, "Your Wrist Smells Like Orange".
More: 
https://ltv.lsm.lv/lv/raksts/13.02.2023-feminisms-sieviesu-tiesibas-un-naivisms-galerija-maksla-xo.id285861