12.01. - 04.02.2023 KRISTAPS ZARINS "Four Paintings"
12.01. - 04.02.2023
Galerija "Māksla XO"
Elizabetes iela 14, Rīga, LV 1010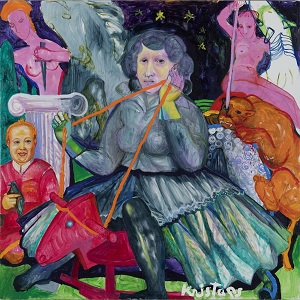 Four Paintings

Kristaps Zarins' solo exhibition "Four Paintings" consists of four large-format works created in 2022/2023. They create a transcendental environment without the boundaries of time and space, in which historical figures of different periods meet with the characters of Kristaps Zarins' paintings of different periods. The painting "Welcome!", created at the turn of the year 2021/2022, serves as an introduction into the new exhibition: At the center of this painting are two figures - El Greco and Woman-Angel from the painting by Fra Angelico - hosts, inviting the viewer in...
"In the last two years, I have created eigheen paintings in which I have incorporated elements from the works of several world renowned artists and sculptors. Each separate element embodies the culture and world view of a particular artist, which I have absorbed and re-interpreted in my own artworks. I can recall being engulfed in art history since my earliest childhood years, and this experience has manifested itself in my compositions. In a way, I try to pass on the history of art through my paintings to the viewer. The characters and imagery I depict from other artists' works function like letters that make up the words and text of my paintings. Painting techniques help breathe life into the text"- Kristaps Zarins.

Kristaps Zarins has graduated from the Department of Painting of the Art Academy of Latvia (1986). Since 2017 he is the rector of the Art Academy of Latvia. The artist has organized more than 20 solo exhibitions and participated in numerous group shows all over the world.
Kristaps Zarins works are in public collections – Latvian National Museum of Art (Riga, Latvia), Collection of Artist's Union of Latvia (Riga, Latvia), Art Foundation Collection (Moscow, Russia), Collection of the Russian Ministry of Culture (Moscow, Russia), Collection of the Russian Art Academy (Moscow, Russia).