03.11. - 31.12.2022 HELENA HEINRIHSONE "Silkscreens"
03.11. - 03.12.2022
Galerija "Māksla XO"
Elizabetes iela 14, Rīga, LV 1010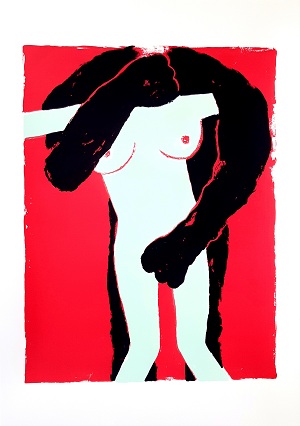 Silkscreens

"Sun. Shadow. Happiness. Unhappiness.
Love and hate.
Life and threshold of death.
All within one body.
Dust in the Universe.
After painting for many years, I've realized how important it is to shift focus on other forms of art - besides painting, I also delve into porcelain painting, animation, collage and lithography.
In collaboration with artist Sabine Vekmane I am currently learning the silkscreen technique. Some of the topics - the presence of women in the context of World perception. The human body as an expression of joy and pain, loss and victory.
These side steps broaden the horizon and restore perception" - Helena Heinrihsone, 2022.
Helena Heinrihsone is one of the brightest and most versatile artists in Latvian contemporary art, who doesn't only paint, but also uses watercolour, lithography, photography, porcelain painting and animation. It is in her power to change, go into the unknown, and discover the new and return to the once found.
Helena Heinrihsone has graduated from the Art Academy of Latvia (1973). She has received the Art Academy Award (2016), Lielais Kristaps – Prize of Latvian Filmmakers Union – "Best Animation Artist" (2008), the Annual Prize of Latvian Museums Association (2007). In 2008, Helena Heinrihsone was awarded with the Order of the Three Stars – order awarded for merits in service for Latvia.
Her works are in museum collections - Latvian National Museum of Art (Riga, Latvia), Artists' Union of  Latvia Art Collection (Riga, Latvia), Museum Ludwig (Köln, Germany), State Tretyakov Gallery (Moscow, Russia), Perm Museum of Contemporary Art (Perm, Russia), Zimmerly Art Museum (New Jersey, USA), and Rutgers University (New Brunswick, NY, USA).