17.02. - 12.03.2022 IVARS HEINRIHSONS "Ideal World"
17.02. - 12.03.2022
Galerija "Māksla XO"
Elizabetes iela 14, Rīga, LV 1010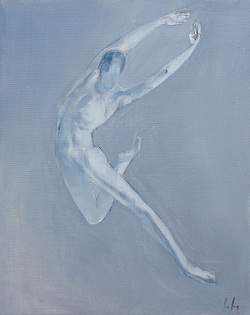 Ideal World

Creation of the "Ideal World" stems from my inner necessity to break free from the everyday reality and address those who feel the same, by using human plastic expression and atmosphere of opposites found in the classical ballet. Today there is a prevailing notion within the society, that it longs for the "ideal world", reigned by light, movement and otherworldly beauty, a refuge from the dull routine, anti-manifestations and diseases. The "normative" style of the classic and the clarity of motifes, the pursuit of aesthetic perfection transcend the material and existential problems that occupy our minds, inspiring us to reach towards the unknown, the ideal future ... (Ivars Heinrihsons, 2022)
Ivars Heinrihsons is one of the brightest personalities in Latvian painting today - a brilliant neo-expressionist and master of the refined achromatic colour scheme, an avid thinker and a romantic in spirit at the same time. His calligraphic brush strokes, tangled lines and bolts manifest in an imaginative form. The painting simultaneously becomes an experience and a revelation. Adhering to the strict system of his own images, Ivars Heinrihsons bases his works on the opposites – black and white, light and dark, stillness and movement, like inhaling and exhaling – everything pulsates and interchanges, intertwines, twists and breaks apart. (Ilze Žeivate)
Ivars Heinrihsons works are in public collections – Latvian National Museum of Art and Artists' Union of Latvia (Riga, Latvia), Museo Fundación Antonio Pérez (Cuenca, Spain), Samlung Friedeman Stockart (Munich, Germany), Grafikens Hus Collection (Mariefred, Sweden), State Tretyakov Gallery (Moscow, Russia), Zimmerly Art Museum (New Jersey, USA).
Ivars Heinrihsons lives and works in Riga, Latvia.