07.04. (08.02) - 03.05.2021 ENVIJA "Myth for Private Use"
07.04. (08.02) - 03.05.2021
Galerija "Māksla XO"
Elizabetes iela 14, Rīga, LV 1010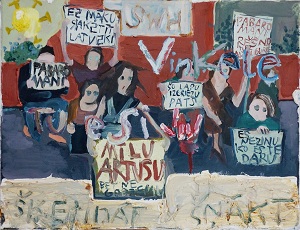 The exhibition is open!
ENVIJA
Myth for Private Use

"In the language of self-irony I'm still talking about womanhood, ties with the family and place, ties with cultural history. While painting, conversations with the great masters otften take place in my mind, even more so, to the point where I have to ask – perhaps these brush strokes, this form isn't mine at all? Works feature quotes from the artistic heritage and people's expressions." Envija, November 2020.
In her latest solo show "Myth for private use" Envija continues her self-ironic conversation with the world, which has sparked the interest of Latvian art professionals and exhibition curators over the past two years.
In the center of Envija's paintings are women, experienced experiences, themes of the world, culture and language. Her works take the form of an autobiography stemming from a personal story. Envija bases them on a deep and sincere personal sense and self-knowledge about herself and the environment surrounding her. Within her art she arranges cultural-historical and modern symbols, images from art history as well as self-created imagery. The painting language of Envija is multilingual - figurative painting alternates with text paintings - poetry, notes with self-revelations and challenges for oneself and the world. For Envija these are paintings stories of facture, texture and text. Open, emotional, sometimes rebellious and witty, unadulterated. (Ilze Zeivate)
Envija has chosen to use only her first name as her painter's name. She is studying at the Art Academy of Latvia, Painting department - master's program. She enriched her knowledge of painting at the Academy of Fine Arts in Gdansk (2014-2015). Since 2013 she has participated in several group exhibitions in Latvia, Lithuania and Poland, as well as organized 3 solo shows.
Envija's most significant exhibitions and projects in the recent years: Survival Kit 11, Terbatas Street 75 (Riga, Latvia, 2020); solo exhibition "We Will All Laugh, Grieve, Cry, Laugh Again", Jurmala City Museum (Jurmala, Latvia, 2020); Indulis Zarins / Ieva Iltnere and Envija, "Mākslai vajag telpu (Art Needs Space)" summer house on the Esplanade (Riga, Latvia, 2019).
More:
https://rus.lsm.lv/statja/kultura/kultura/envija--novoe-imja-v-latviyskom-iskusstve-kotoroe-obnaruzhili-na-yarmarke-kultura1kb.a399924/