03.09. - 10.10.2020 IEVA ILTNERE "Evening of Diapositives"
03.09. - 10.10.2020
Galerija "Māksla XO"
Elizabetes iela 14, Rīga, LV 1010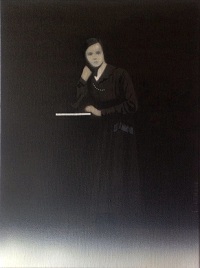 Evening of Diapositives

Innovative, always contemporary and topical, delicate, beautiful and feminine, exquisite in the smallest details and mid-tones, muted and bold. Painter.
In her latest exhibition, Ieva Iltnere is the same and yet completely different from Ieva Iltnere that her viewer is used to seeing. No politics, no global issues. At the center of the exhibition is family, the people who are next to us - those without whom there is neither our past, nor our future. Ieva Iltnere has removed the veil and allows us to come closer. To look deep into her personal memories and feelings of memory.
"The idea of the exhibition came from childhood diapositives.
Faded colors, illuminated shots, scratches, a blurry finger in the corner of the image, fragmentation, uncertainty ... All this gives space for imagination.
Transfer, overlap, accumulation. Time warp and personal experience make a difference in perception.
What is it that we see? What is the most valuable thing that catches our eye? What is the same and yet different?
The main theme became Time. Surreal impossible meetings. There is also fiction and exaggeration. The secrets are gradually revealed. It takes time," Ieva Iltnere, 2020.
The exhibition "Evening of Diapositives" is as a moment stopped in time, that is valuable for Ieva Iltnere, to live, create and paint.
"We are surrounded by the web of familiarity. My children live in Latvia. Here are the graves of my parents. I can't imagine living anywhere else! In Latvia I feel like a flower in a pot. Holding on with all my roots. It's good here."
Ieva Iltnere (1957) has graduated from Art Academy of Latvia, department of Monumental Painting, workshop of Indulis Zarins (1982). Since 1980, she has organized 24 solo exhibitions and participated in more than 90 important group exhibitions in Latvia and abroad.
Ieva Iltnere's artworks are included in public collections: Latvian National Museum of Art (Riga, Latvia), Latvian Artists' Union Collection (Riga, Latvia), Latvian Contemporary Art Museum Collection (Riga, Latvia), Ludwig Museum (Aachen, Germany), ECB Art Collection (Frankfurt, Germany), Jane Voorhees Zimmerli Art Museum, Rutgers University (New Brunswick, New Jersey, USA), State Tretyakov Gallery (Moscow, Russia).
In 2017 she was awarded the honorary Order of the Three Stars - order awarded for merits in service for Latvia.