12.03. - 09.04.2020. KRISTAPS ZARINS "Time. Space. Consciousness"
12.03.-09.04.2020
Galerija "Māksla XO"
Elizabetes iela 14, Rīga, LV 1010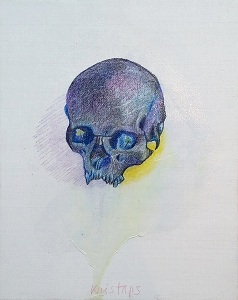 Time. Space. Consciousness

Kristaps Zarins' painting always addresses the viewer with a form based on the reality – a figure, turn of the head, facial expression and body posture, richness of colors and artistic provocation.
The latest Kristaps Zarins' exhibition "Time. Space. Consciousness" turns a mirror towards the viewer, revealing the complicated order of our world and it's multilayered content, while simultaneously documenting and analyzing all of the processes around us. Numerous figures and unfamiliar bodies, with whom we can identify ourselves, are debating, unweiling, tearing apart and provoking each other.
Just like Alice in Wonderland, the viewer is pulled into the space and disappears in time, surviving one surreal event after another... (Ilze Zeivate)
"If I have to make sense of Kristaps' paintings – it is impossible to think about the colour or the form as such – I come upon two elements that point toward sense. These are the facial expressions ("Our whole body is a face," an Indian replied to a missionary's question why they walk around naked) and the hint towards narration that comprises the body as a facial expression. The narration here is just the background, a bodily expression, the key. […]
If I had to compare this painterly world to anything I would say that it is like gesticulation of a mute, defenceless man in a world which is turbulent, cruel and incomprehensible, a world that foams, oozes and bleeds, a world that soaks into the pores of the soul, makes it move in a direction unknown to itself and at the same time longs for new movers – those who would touch, provoke or irritate it." (Philosopher and publicist Dr.Phil. Arnis Ritups.)
Kristaps Zarins has graduated from the Department of Painting of the Art Academy of Latvia (1986). Since 2017 he is the rector of the Art Academy of Latvia. The artist has organized more than 20 solo exhibitions and participated in numerous group shows all over the world.
Kristaps Zarins works are in public collections – Latvian National Museum of Art (Riga, Latvia), Collection of Artist's Union of Latvia (Riga, Latvia), Art Foundation Collection (Moscow, Russia), Collection of the Russian Ministry of Culture (Moscow, Russia), Collection of the Russian Art Academy (Moscow, Russia). 
More about exhibition:
https://www.tvnet.lv/6921350/atklata-lma-rektora-makslinieka-kristapa-zarina-personalizstade