18.01. - 12.02.2019 ZiLE ZIEMELE "Overlaps"
18.01. - 12.02.2019
Galerija "Māksla XO"
Elizabetes iela 14, Rīga, LV 1010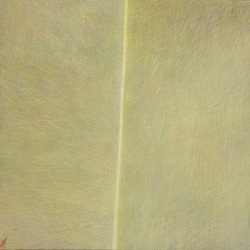 Overlaps
I'm gazing at the corner of the room. Two white walls, gray against each other, stand in the light.
The wall meets the edge, then bends forward, continues.
It is strange, but the corner line of the room always stays bright.
It can be seen particularly well in the rooms that have experienced life.
Dust flies past the corners and doesn't cling to it, rises up and impinges on the ceiling.
Above the ceiling is a roof. Behind the sky – Heaven.
Stairs, which are leading up, when going down.
Roots of the hair slowly grow from the top of your head in an uneven transition.
You are telling me about birds. The railway is roaring.
We live in angular spaces and eat from round dishes.
Overlaps – best friends' straws, the salty ones.
A geranium in the window, misty windowpanes.
A cricket behind the stove. Brother's finger on a candle flame.
Can the one who sweeps the room become a tyrant?
At night, before I close my eyes, I remember how I went down Encampment Street in the early spring.
That morning the sun was shining very brightly. So clear! Sharp rays broke dark, blue and black shadows.
I suddenly stopped, realizing – darkness is outside at the moment too; the stars are shinning in the distance.
A woman sings on the radio: "...make your own corner bright..." Zile Ziemele, 2018.

Longing. 2018, egg tempera on paper, plywood, 31x34 cm
Zile Ziemele (1993) paints in a very old technique – egg tempera – as if coming from a prehistory, but talking about contemporary life, revealing characters of mundane things. She is also a very gifted storyteller in writing. In 2017, she graduated from the Art Academy of Latvia. In 2016, she did four months Erasmus+ exchange studying at the Antwerp Royal Academy of Fine Arts (Antwerp, Belgium). In 2015, she received the "SEB Scholarship in Painting". Since 2013, Zile Ziemele participates in exhibitions; she has organized 5 solo shows and participated in 18 group shows. Highlighting  as the most relevant international exhibitions – Jeune Creation Europenne – Biennale of the Young European Art, Montrouge (2017, Paris, France) and "outlands" – SURVIVAL KIT 10 (2018, Riga, Latvia).
ile Ziemele lives and works in Riga, Latvia.