27.09. - 30.09.2018. POSITIONS Berlin 2018
27.09. - 30.09.2018
Flughafen Tempelhof - Hangar 4
Columbiadamm 10, 10965, Berlin, Germany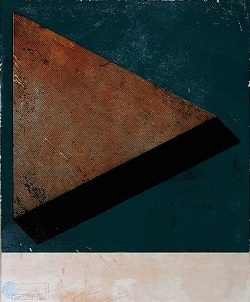 Maksla XO Gallery at POSITIONS Berlin Art Fair 2018
Paulis Liepa un Michel Castaignet
 Stand - A16

From the 27th till 30th of September, 2018, the Modern & Contemporary Art fair POSITIONS Berlin Art Fair 2018 will take place in Berlin, Germnay. At the fair, Maksla XO gallery will present the latest prints by Paulis Liepa, created in his author's technique, and a Berlin-based French painter Michel Castaignet.
Paulis Liepa (1978, Latvia) – is a Latvian new generation graphic artist, who works with the most basic graphic techniques – collography and cardboard cut. The aesthetics of Liepa's works have evolved from various influences of the modernist graphic culture of the 20th century - design, architecture and engineering blueprints, especially looking back at the visual aesthetics of the 60's and 70's, which the artist uses as his language of expression. To amplify this effect of "oldness", Paulis Liepa exposes his work to direct environmental influences – coagulated layers of glue, cardboard pieces scratched with knife, layers of paint, one over another, creating a sense that the works have come from 60's or 70's, have been abandoned and forgotten somewhere and rediscovered today. With subtle irony about graphic artists' obsession with perfect and aestheticized image, works of Paulis Liepa "overstep" this occupational etiquette. He's not interested in editions of his works – it can only be two author proofs to maximum 7 exemplars, each of which will be different and unique.
Paulis Liepa, using seemingly neutral and unpretentious units, reflects on philosophical and current events in a wide range – starting from recent war collision points to simple everyday items and topics, which generally is a diary by the artist as a modern human: studio, home, street, Internet, news, advertisement…
Michel Castaignet (1971) is interested in the fifties' abstraction history and adapts Greenberg's concepts to figurative means, producing works that are both formal and representational. The paintings of Michel Castaignet follow logic of collage but nevertheless recall the systems of Buren.
The latest series "Frauwelt", shown at POSITIONS, is the recent outcome of many years of experiment on the deconstruction of figuration. What started as a clash between geometry and narrative has now resumed in the painting of a bright world inhabited by a generic persona recalling inasmuch pop as constructivist imageries. Yet there is a twist in these paintings, this generic figure happens to be a woman and thus generates interrogations about the possibility and the attractiveness of a world of sole women.
Support: