01.06. - 27.06.2017 ANTHONY RAFOUX "What's on your mind"
01.06. - 27.06.2017
Galerija "Māksla XO"
Elizabetes iela 14, Rīga, LV 1010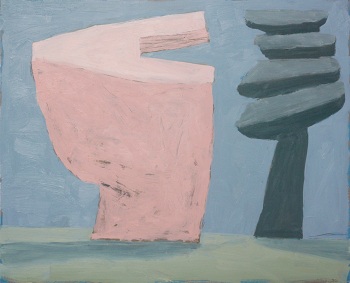 Anthony Faroux
WHAT'S ON YOUR MIND


From the 1st to 27th of June, 2017, a solo show "WHAT'S ON YOUR MIND" by French painter Anthony Faroux will take place at the "Maksla XO" gallery in Riga. It will feature the latest works by the artist, which are created especially for Riga. In the White hall of the "Maksla XO" gallery more than 30 small-scale painting will be exhibited.  At the opening on the 1st of June, the artist will be present at the gallery.
Anthony Faroux works in such mediums as painting, film and video art, as well as plays in an experimental music group "Squares and Triangles". As art critics point out, Anthony Faroux challenges the parameters of painting with ingenuity, showing refreshingly diverse viewpoints of painting as a subject of today.
Anthony Faroux's pictures get done through a number of sessions until they reach a point that seems right to be left. This point is the result of deliberations, and attempts which eventually will exhaust a form of self awareness. The plan, the board, the glass or the canvas become grounds for negotiations between mind, medium, and the hand; it is an argumentative process where questions about strokes, marks, subject matter and possibly narratives, flood in before something will grip on the surface.  The result is often familiar; it pictures or suggests objects, places, animals, or people. The surface of the painting is used as a field where Anthony Faroux' protagonists can play. The forms within the pictures have an existence recalling human interactions and dispositions of objects of the world; Confrontation, intimacy, attraction or outskirts of cities, military layouts as well as utensils on shelves.
Anthony Faroux gives a title to each painting which establishes a link between them and an idea; an interaction happens between the pictures with a (un)dertermined context. They refer to contemporary art, news reports from medias, popular culture and extracts of erudite ideas.
To describe his works and himself, Anthony Faroux quotes Georges Braques:
"Whatever is valuable in painting is precisely what one is incapable of talking about;"
and "I do not do what I want. I do what I can."

Anthony Faroux was born in 1971 in a diplomat's family in Aix-en-Provence, France. The artist grew up between the Mediterranean and New York. He went to school in Lebanon and Morocco, studied at the ÉcoleSupérieure desBeaux-Arts de Marseille (ESBAM) (Marseilles, France) and in 2007 graduated from Royal Academy of Arts in London (UK). He spent an year and worked at the British school in Rome (Italy, 2007-2008) and Durham Cathedral Residency (UK, 2010-2011).
The modernism influences in Anthony Faroux' works refer to the oeuvre of Giorgio Morandi, Henri Matisse and Philip Guston. Since 2006 he has participated in 25 international group shows in Europe and organized 5 solo exhibitions. ). In 2013 he received the prestigious Jerwood Painting Fellowship, which biennially selects 3 UK based painters within five years of beginning their practice through a national open call. Each artist receives mentoring from an established painter over a year-long period and a bursary of £10,000 to support experimentation and the making of new work for a national touring exhibition. Anthony Faroux' mentor was the painter and writer Fabian Peake (1942), who also works with videos and sound art and with his diverse approach helped Anthony Faroux grapple with his own eclecticism. It went beyond the relationship of a mentor and a student; the two also collaborated, with Faroux helping Peake with editing a sound work. For the final show that took place at the Jerwood Space in London, after one year long work, Anthony Faroux created installations about how we deal with selective memory and how objects can appear to be the residue of past experiences, making composites of film, sound and painting to piece together the fragments of an image.
Artist lives and works between France and Denmark.
Anthony Faroux is not a stranger to the Baltic region. The first encounter happened in 2009, when he participated in a residency "Polymer Factory", which is an alternative, multidisciplinary cultural space with artists' studios and residency, located in an abandoned Soviet era "Polymer" toy factory. The same year, Anthony Faroux participated in a group exhibition "Animal Collective" at the Tallinn Art Hall with an installation-performance.
Whereas Latvian public got to know a little bit of Anthony Faroux' works – paintings and collages – in the exhibition "till the end of it" ("Maksla XO" gallery, 2014), where they were shown together with the works by Kristaps Gelzis, Michel Castaignet and John Cornu.