19.10. - 17.11.2015 Ieva Iltnere "BABEL"
17.09. - 20.09.2015
Galerija "Māksla XO"
Elizabetes iela 14, Rīga, LV 1010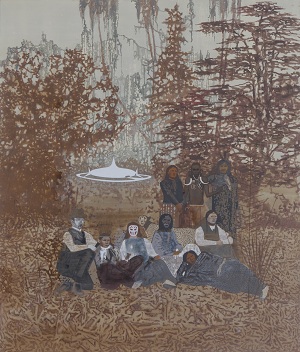 "Comparing to a historical Babel, the world created in Ieva Iltnere new paintings, doesn't seem strange and distant. Artist has selected modern details and subtly integrated them in natural, untouched environment. Characters aren't hidden today's people. They live in that named world - Babel, which today maybe doesn't have a specific location anymore, because it appears in processes, it has turned into the whole world, where everything continues to blend. When abstracted from nowadays processes, paintings can be seen as something authentic, unveiled in every of its speckled nuances, though even then tension and unknown can be felt, where explanations and answers are found in current reality..." Renate Berga

The painter Ieva Iltnere's art could be described as gently defiant. She has succeeded to retain her unique and recognisable style while transforming and experimenting at the same time. A couple exceptions dating from the 1990's apart, Iltnere has been consistent in her preference of the centuries-old art medium that is painting, somehow managing to be always contemporary.
Since 2007 Ieva Iltnere's paintings achieve their inimitable power by making supertemporal aestheticism, ornamentality  and, to call things by their proper names, beauty to mix with documentation of the era, irony and even social commentary. The paintings are unique with their paradoxicality – not quite intellectual (in the sense that attempts of conceptualising makes us misunderstand the work) and yet vaguely stimulating the mind, never allowing to trust one's senses completely (something will also probably be missed by a naively enthusiastic viewer). Feelings and sensibility are present, yet susceptible to displacement. Everything is perfect, yet nothing is in its proper place. (Artis Svece)
More about the exhibition "Babel":
http://lr1.lsm.lv/lv/raksts/kulturas-rondo/ievas-iltneres-babele.a58191/
http://arterritory.com/lv/teksti/intervijas/5120-kad_gleznoju,_man_galva_notiek_pingpongs
http://nra.lv/kultura/153408-saruna-visrazigakais-ir-pusmiegs.htm
http://www.diena.lv/kd/maksla/ieva-iltnere-gribas-sevi-izpuskot-ar-meru-protams-14116176
http://ltv.lsm.lv/lv/raksts/20.10.2015-ieva-iltnere-parego-nakotni.id58345/