27.08. - 22.09.2015 Anna Heinrihsone "AUGUST"
27.08. - 22.09.2015
Galerija "Māksla XO"
Elizabetes iela 14, Rīga, LV 1010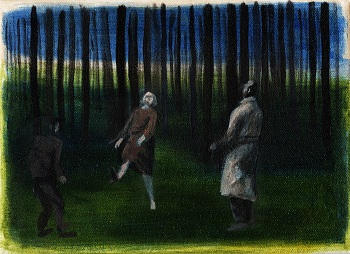 ANNA HEINRIHSONE "AUGUST"
 
"The story unfolds around past family events in the heat of August.
They, who are now already dead, prepare to enjoy their life there...
And the faces oppositely have preserved all of it in their wrinkles, between life and death, hanging in the memories of August, a long way back,"
Anna Heinrihsone, 2015

Anna Heinrihsone's solo exhibition AUGUST with 40 miniature paintings continues two previously explored themes by the paintress – old wrinkles and bushes. In this exhibition they can be seen together.
Anna Heinrihsone is known in the theatre scene as a costume designer with unique style, where one of its features is vivid characters, who unfold in mutual relations and actions. Vivid and original characters are distinctive in her figurative painting, as well (V. Vejs).
Anna Heinrihsone has graduated from the Department of Stage Design of the Art Academy of Latvia (1996). Since 1995 she has created stage designs and costumes for more than 80 theatre plays (The New Riga Theatre, Valmiera Drama Theatre, The Latvian National Opera and Ballet, Tartu Vannemuine Theatre, MHAT (Moscow), Novosibirsk State Academic Opera and Ballet Theatre).
Anna Heinrihsone has also organized 7 solo exhibitions and participated in more than 20 painting and stage design exhibitions in Latvia and abroad.
Her works are in public collections - Latvian National Museum of Art (Riga, Latvia), Swedbank Contemporary Art Collection (Riga, Latvia), KUMU (Tallinn, Estonia).