23.07. - 18.08.2009. Lithographers VII
23.07.2009. - 18.08.2009.
Galerija "Māksla XO"
Elizabetes iela 14, Rīga, LV 1010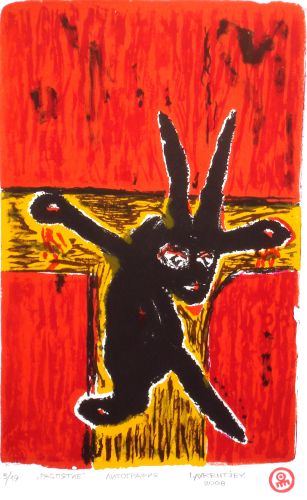 Lithographers VII
"Maksla XO" Gallery from 23.07. - 18.08.2009.
The first exhibition of  "Lithographers" artistic group at Māksla XO gallery goes back to 2001.
Once a year the Latvian artists of the group addresse to colour graphics and paints...no, not on canvas, but on stone.
The author of the idea is Helena Heinrihsone who has chosen lithography at the end of the 90s.
Also back then the concept of an annual exhibition for lithographers- turned- painters was born.
The artists consider lithography as an exciting process-mobilizing and leaving no chance to redo anything. Another difference from painting is that the artist does not know the outcome until the last moment.
For all these years Andris Abilevs has been recognized by the artists as the best teacher and master of lithography.
This year, at the  "Lithographetrs VII" exhibition from 23.07 until 18. 08 he will be joined by several new names: Lasma Pujate, Ieva Markevicha-Caruka, Dmitriy Lavrentjev, Michel Castaignet ( France), as well Andris Abilevs, Ilona Abileva, Helena Heinrihsone, Ivars Heinrihsons, Tatjana Krivenkova, Irena Luse, Ilze Neilande, Aleksejs Naumovs, Kristaps Zarins and Otto Zitmanis.