31.07. - 02.09.2014. Tilo Baumgärtel "GOGO"
31.07. - 02.09.2014
Galerija "Māksla XO"
Elizabetes iela 14, Rīga, LV 1010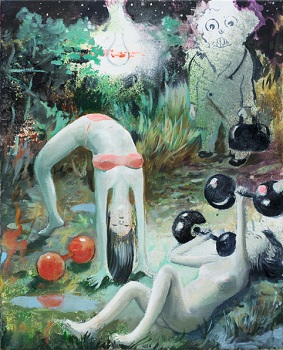 Tilo Baumgärtel is one of the representatives of the New Leipzig School that has become a phenomenon over the last decade. In 2000, together five other graduates of the Leipzig Art Academy, Baumgärtel organised the two year Liga Gallery project in Berlin, which brought him international recognition.
Baumgärtel's works have a mysterious mood that is hard to define. They are like visual riddles that find themselves somewhere between reality, dreams and nightmares, a metaphysical world crammed with symbols and metaphors. The depicted events, whose origins are to be found in the landscape and events of East Germany, are like frames from a film. They inspire a sequential narrative in which something has just happened and we see the result or they evoke a clear sense of hope that something is just about to happen. The choice of motifs is dominated by nature, architecture and the city infrastructure. Inspiration for this has indirectly been found in Leipzig itself. After the fall of the Berlin Wall, Leipzig experienced a high level of unemployment and poverty and in terms of subject matter, this can also be encountered in the artist's works.
Tilo Baumgärtel's painted scenes are like fittings in time and space ruled by a surreal mood characteristic of fairy tales. The images created in his imagination seem to have lost their voice; they appear to be in strange state of inactivity, as if they had fallen into a lethargic sleep or simply without aim. The anthropomorphic animals characteristic of Baumgärtel's style and a persistent motif in his art, just like the specific choice of colours, are not allegories of fairy tales. They are rather created as an instrument to achieve the universality of culture in the scene. During a 2008 interview, Tilo Baumgärtel announced that he saw himself "as a hinge between people asking questions on all levels, and as an agitator who presents his findings and tries to capture madness, beauty, questionable things and strange things in pictures in order to create a certain."
The artist is not only an outstanding painter but also a draughtsman. His whose work process begins with
sketches and drawings that are often hung in exhibitions alongside the large format paintings thus emphasising the significance of this transition process. His works also demonstrate a deeper knowledge of other media – computer graphics, comics, photography and the cinema thus creating a contemporary interpretation of classical media.
Tilo Baumgärtel was born in 1972. He studied at the Leipzig Academy of Visual Arts, graduating from the graphics department. He studied for his Master's Degree in painting under Arno Rink. Until now he has had more than 20 solo exhibitions and has taken part in more than 50 group exhibitions all over the world – in Europe, China, South Korea and America. His works can be found in many important public and private collections:  the ARKEN Museum of Modern Art in Copenhagen, Von der Heydt museum (Wuppertal), SØR Rusche Sammlung (Berlin), Weserburg Museum of Modern Art (Bremen) and the Zabludowicz Collection and Saatchi Gallery in London.
Tilo Baumgärtel lives and works in Leipzig.
More about exhibition: http://www.lsm.lv/lv/raksts/maksla/kultura/riiga-skatama-vacu-makslinieka-tilo-baumgartela-izstade.a93204/
http://riga2014.org/lat/gallery/foto/1583-atklata-tilo-baumgertela-izstade-riga
"
"Albis" 2013, oil on canvas, 50x70

"Tong" 2011, oil on canvas, 160x220