05.06. - 01.07.2014 Tatjana Krivenkova "THE GENTLENESS OF DESCARTES"
05.06. - 01.07.2014
Galerija "Māksla XO"
Elizabetes iela 14, Rīga, LV 1010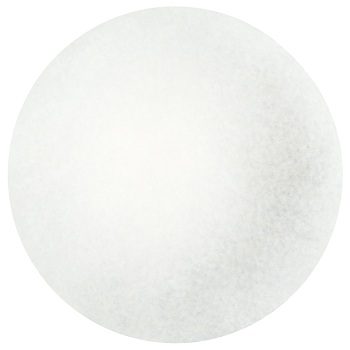 THE GENTLENESS OF DESCARTES
"The exhibition is an attempt to create an ideal space, which would give fullness to observation. We make all of the discoveries on our own and the desire to share them is instinctive. Usually the disappointment of the comparison between the ideal and the real outcome keeps us going and work on.
Gallery "Maksla XO" occupies the first floor of the building designed by the architect Teodors Hermanovskis. Once there was a church here and a cupola in the second exhibition hall points it out.
Rondo format was actually derived from the cupola. I painted in series whilst imagining the viewer's movement. The ideal exhibition is in my head when I paint for the viewers. It is an open and free space as in Descartes' rule of signs, where from two "well designed" set of numbers – finite and infinite set – an infinite set is created. The set theories research discrete mathematics, discrete – not just hidden, but also faithful, attentive and considerate.
"Joining hands with a Stranger is scary, it requires, passion and courage," poet Uldis Berzins says. The exhibition is a place where to look and see," Tatjana Krivenkova, 2014.
Tatjana Krivenkova is a well-known paintress with a finished and exquisite feel of colouring. Colour and light are the main subjects and primary elements for Tatjana Krivenkova.
Paintress is not interested in pure monochromic painting, but rather in the interplay of nuances of transperent colour that overlap in layers or blend into one another.
Tatjana Krivenkova, in her own charecteristic way, exhibits an abundance of subtle interwoven shades – highly concentrated in some places and more diffuse in others, creating an iridescent, vibrant, virtually three dimensionally painted fields that has the power to draw the viewer into total absorption in the observation of the clour phenomena.
Tatjana Krivenkova has graduated Art Academy of Latvia, Department of Monumental Painting (1988) and Master studies in Department of Graphic Art (2010). She has organized 23 solo exhibition and participated in more than 15 group exhibitions in Latvia and abroad.
The works of Tatjana Krivenkova are in public collections – Latvian National Museum of Art (Riga, Latvia), Riga Porcelan Museum (Riga, Latvia), Latvian Artist's Union Collection (Riga, Latvia), Pedvale Open Air Museum (Pedvale, Latvia), Swedbank Contemporary Art Collection (Riga, Latvia).