12.09. - 08.10.2013. Neonilla Medvedeva "Passing of Time"
12.09.2013. - 08.10.2013.
Galerija "Māksla XO"
Elizabetes iela 14, Rīga, LV 1010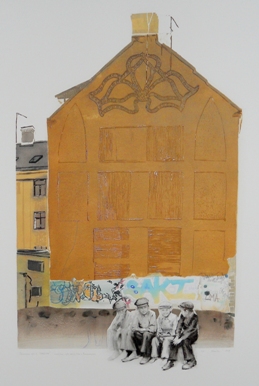 Passing of Time – drawings and linocuts
Maksla XO Gallery from 12.09.-08.10.2013.
"Is it possible to talk and judge the present time? More accurately is to portray it. That is why all the works of the exhibition, starting from the first touch of the coal to the last linocut print, are dedicated to the present time. By creating, I verify that the concept of reality is much wider than the ego of one man.
Nowadays, when it's getting harder and harder to believe in the flow of information, the only eye witnesses of history are the houses of the last century. Their facades show truthful information about the things that have happened in the last hundred years. Here the building – is the character. Its precisely detailed drawing figuratively brightens and even physically colours the monochrome portrait of today's man. In the same way the play between the photos of past century and present image originates. The different degrees of characters' emotions build up the feeling of place and time. The past reanimates the present, and in its turn, it presumes, agrees and plays along,"
      Neonilla Medvedeva, 2013.
Neonilla Medvedeva (1987) has graduated from Art Academy of Latvia and received Masters Degree in painting (2011). She has organised six solo exhibitions in Latvia, Sweden, Germany and Greece. Since 2008 she participated in more than 15 group exhibitions and international projects in Latvia and abroad.
Neonilla Medvedeva is the author of crypt altar-piece in Saldus Sts. Peter and Paul Roman Catholically church.