13.09. - 16.09.2012. PREVIEW BERLIN 2012
13.09.2012. - 16.09.2012.
PREVIEW BERLIN Projects
Prinzenstraße 85 C 10969 Berlin | Germany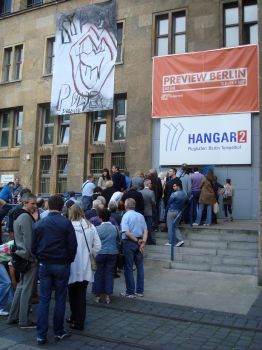 Maksla XO Gallery at Preview Berlin 2012
At Preview Berlin 2012 the gallery collection is formed of Preview Berlin visitors already known artist Kristaps Gelzis new works - large scaled "plastic paintings", watercolours and video, and two artists of Latvian young generation whom previously have participated in several international projects and exhibitions- paintress Jana Brike with specially created paintings and animation for Preview Berlin and sculptor Ginters Krumholcs with his figurative coloured sculpture.
Kristaps Glezis (1956) latest achievement - large scaled "plastic paintings" created in that sort of way and with that kind of means of expression that this method definitely could be called an author technique. Instead of canvas these frames are disposed with a plastic polythene, but on them are spread different synthetic materials "colours" or structures. Artist accents: "I am looking for nowadays facture. Facture that testify the time, so that form of expression is typical to this period. As a human in this pictures I find pure state of mind – world and environment like an eternal repair which surrounds us. Eternal noise. Everything is not really packed or unpacked, something like a life on trunks, interim existence. Take a look on environment in which we live! Everything is spoiled – everything is plastic, chemicals, garbage mountains. However, I like the beauty of this terrible material. Now this beauty of life goes on with plastic paintings, with Rimi, Maxima and Sky plastic bags, black plastic polyethylene for greenhouses from the gardening shop Depo, scotch, drawings with a marker. Red, blue, black, green markers, as needed."
Jana Brike (1980) series of paintings "Where the wild dreams grow" tells a story about dark forests, secrets and mysteries. The place where you can meet birdies, bunnies and butterflies, but farther, deep in the woods lives monsters, predators and witches.  It is a unit of secrets; forgotten castles, buried treasure and a virgin in need of salvage. Forest is a place where the boundaries between reality and fantasy become blurred, enabling intuitive perceptions and collective cognition, opening the unwitting, deepest part of our consciousness. Jana Briķe like the masters of the early Renaissance, creates her paintings and drawings layer by layer, but using 21st century technology. She makes use of the synthetic properties of digital photography and 3D computer programmes as an instrument for her works. She combines these with a fine and precise drawing in graphite, colored pencil, ballpoint pen. This is Jana Briķe's toolbox of methods for capturing the final point of collision of contrasts in both the material and the image as artificial - natural, living - dead, beautiful - unpleasant, attractive - repellent and so on.
Ginters Krumholcs (1980) last exhibition "Mayday!"(2011) attracted critics' attention with enough unusual version of the centuries-old "ideal man" theme. Avoiding a direct unmistakable narrative the artist has created a passionless naturalism, painful irony and a glittering cocktail of an obtrusive pop-artistic brightness. It is possible that more accurately this cocktail describes man's confusion in nowadays radical, with modifications subjected value system. For expressing his ideas artist uses contemporary art language - making his sculptures from life and casting them in plastic (polyester resin) and paint.
  IEGULDĪJUMS TAVĀ NĀKOTNĒ!