23.08. - 18.09.2012. Ilmars Blumbergs. FEAR.
23.08.2012. - 18.09.2012.
Galerija "Māksla XO"
Elizabetes iela 14, Rīga, LV 1010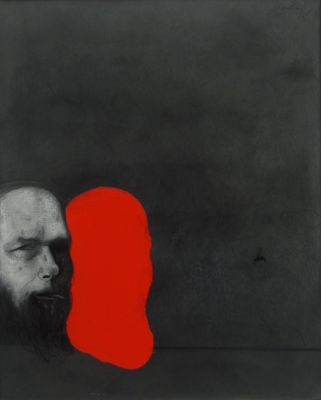 Ilmārs Blumbergs
FEAR.
Māksla XO Gallery from 23.08. - 18.09.2012
ABOUT FEAR. I know one person only, who answered to the question about fears -  I am not afraid!
One. It is a woman. Approximately in her thirties, blonde hair, big gray-blue eyes, slim. With a unique and inexhaustible joy of laughter. Fearless. Lady K.S. lives in a very high – rise building, on the top floor. Fearless. And more. I think she sees my life, because once we met and she said – anything can happen. And all became clear to me.
Are you afraid of your death?
-  But are we afraid of ourselves? However, I remember when I was a small boy I was afraid.
-  Since when you are not afraid?
-  I can not say, if I am afraid. It may be that in the past I have been more scared. It has not been asked and discussed. Lately, I often hear questions about death. Are not we liking it too much? Rather, the other side of a question seems to me more interesting – the one about fear.
-  I have felt fear often. They paralysis and leads person to inaction. It seems that fear are escorting people all their life.
From an interview with Pauls Bankovskis in 1995.
Ilmars Blumbergs, 2012.