28.06. - 24.07.2012. Ilze Neilande " Walk with the Horse"
28.06.2012. - 24.07.2012.
Galerija "Māksla XO"
Elizabetes iela 14, Rīga, LV 1010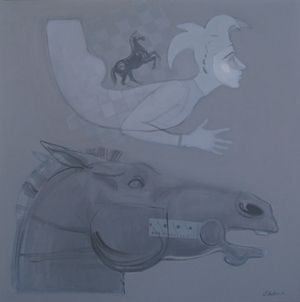 Ilze Neilande " Walk with a Horse "
"Maksla XO" Gallery from 28.06. to 24.07.2012.
The latest solo exhibition by Ilze Neilande "Walk with a Horse" will offer ten new paintings for viewers. In these paintings artist acknowledges for herself still actual and mandatory use of minimal means of expression – an ascetic and colorful figurative solution, which allows certain generalization in personage interpretation and allows to make the main accent on the meaning aspect.
As if with limited personage system – the horse, clown and a woman, Ilze Neilande aspires as much as possible to express her time sense of nowadays and to express her understanding of her material things. The selected personages are not random. They are identified in a long period of time and have become confederates – beings with whom to share a thoughts, feelings, strength, weakness – the widest range of emotions and in which consistency or changeability artist try`s to discover justification for her inner state of mind and artistic vision.
It is a special atmosphere, with whom the works of Ilze Neilande - paintings and lithographs, always have linked viewer's attention. Atmosphere which in her paintings creates velvety surface of painting, black and grey colour palette, halftone fragility and hardly apprehend personage presence. Atmosphere which harmoniously balances the monumentality and fragility of content dramatic effect with bridled refined shaded grey colour scale. With out any kind of ham or fortuity.
Ilze Neilande was born in the 1959th year. She graduated from the Latvian Academy of Art, workshop of Boris Berzins. Working field - painting, lithography, pedagogy. Since 1982 year participated in over than 90 group exhibitions in Latvia and abroad, has organized 11 solo exhibitions. Ilze Neilande works are included in the Latvian National Art Museum Collection, Latvian Artists' Union Museum Collection, Contemporary Art Collection of Swedbank (Latvia).
Ilze Žeivate, 2011