15.01. - 03.02.2009. Harijs Brants "Drawings"
15.01.2009. - 03.02.2009.
Galerija "Māksla XO"
Elizabetes iela 14, Rīga, LV 1010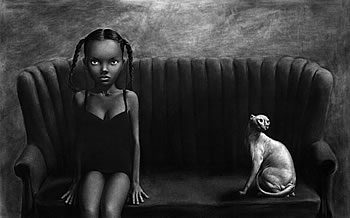 Harijs Brants. "Drawings"
"Maksla XO" Gallery from 15.01. - 03.02.2009
Harijs Brants in his charcoal drawings tries to investigate things that are non-existent in real life and tries to draw them academically correctly - to create an intrigue for the spectator.
The artist has the power to create a simultaneously surreal and sensuous black and white world, inhabited by anatomical and technical hybrids, influenced by science fiction.
Harijs Brants works at night, when the parallel world becomes active, it is important fof him to lift it out of the imagination, the unconscious.